Above and Beyond Mold Removal Mobile Near You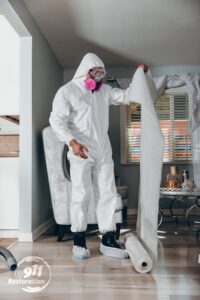 The best mold removal Mobile has near you at 911 Restoration of South Alabama was made to make your life hassle-free.
With the abundant museums, entertainment venues, and outdoor life Mobile offers – there's no time for a mold infestation to get in the way of enjoying your best life in South Alabama.
But unfortunately with the high amount of humidity and precipitation that exists in South Alabama – Mobile and Fairhope property owners know moisture problems can be an annoying issue.
A growing mold infestation is one of the most common signs of property damage property owners in South Alabama face. From visible black spots, stained walls, water in the foundation or musty odors – it's not a fun experience for anyone.
That's why you have a backed team of experts you can rely on regardless of any property mold disaster.
Free visual mold inspection for property owners only
Professional mold inspection & sampling
Third-party laboratory mold testing
Residential & commercial mold removal
Structural drying & dehumidifying
911 Restoration of South Alabama is the local community's comprehensive disaster restoration that serves the Mobile and Fairhope surrounding areas.
Whether you're in need of complete water damage restoration near Mobile, fire damage restoration near Fairhope, or commercial restoration near Mobile – we have the ultimate resources at your service.
If you're tirelessly searching for "mold restoration near me," call today for professional help to deliver you the Fresh Start you deserve.
The Best Mold Remediation in Schools and Commercial Buildings Near You
All our experts in mold remediation Mobile has near you are certified by the Institute of Inspection Cleaning and Restoration Certification organization.
That means we provide a diverse set of skills and services regardless of the type of your property. And mold remediation in schools and commercial buildings is one of the services to keep Mobile and Fairhope residents safe.
The last thing any property owner would want to face are legal battles due to negligence of mold remediation.
Why put kids and people with weakened immune systems' lives on the line?
If not remediated quickly, mold growth in commercial properties can cause bigger issues to the human body.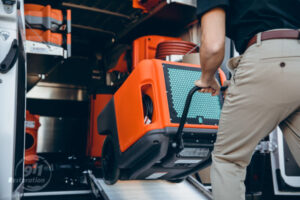 Asthma and lung problems
Wheezing and coughing
Triggered allergic reactions
Headaches and nausea
Skin irritations
The moment our technicians in mold removal Mobile near you arrive at your commercial property, you can remain calm. They'll perform an in-depth property inspection to go over findings and vulnerabilities to give you a complete understanding of the issue at hand.
During the mold removal process, your belongings will be stored to safety from further damage. Any damaged property structures and walls will be stripped for fresh new material to be replaced.
Should any water spills or disaster get involved – state-of-the-art drying and dehumidifying machines, advanced air movers, top thermometers, and heavy duty-cleaning chemicals (safe and eco-friendly) are used. You'll soon realize a Fresh Start all along was easy to attain with a property free of these dangerous fungi.
Keep your students and building occupants healthy and safe with the best mold remediation in schools and commercial buildings near Fairhope. We can also remediate mold on warehouses, offices, churches, retail space, and any public or private space.
A Fresh Start is Nearby With Fast Mold Removal Mobile Has Near You
Being a Mobile or Fairhope property owner is no easy task. Afterall, you're bombarded with a long to-do list with not enough time in the day.
Yet alone dealing with a mold disaster is another can of worms no property owner ever asks for.
While what you're going through at the moment may feel like a stressful burden, it doesn't have to be that way.
The Fresh Start way we deliver is what's going to get you through these dark times.
Fast service with a 45-minute or less response time after any call
Reliability with same-day service and 24/7 availability
We work with all insurance companies to leave you stress-free
An IICRC-certified team you can trust for the best mold remediation Mobile has near you
Lastly, our caring team puts you and your property first the whole way through
You have nothing to lose but the growing mold problem that won't clear on it's own.
What's next?It's time to stop endlessly searching for "mold restoration near me" and take action now for a Fresh Start.
Call 911 Restoration of South for IICRC-certified mold remediation Mobile near you today!
Serving the communities of Daphne, Fairhope, Foley, Mobile and surrounding area.