Emergency Covid 19 Sanitization Services Near Mobile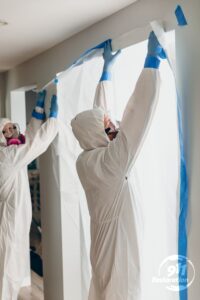 We now live in a time where covid 19 cleaning services near you have been more important than ever.
With continued lockdowns, mandatory mask mandates, and increasing death rates all over the world – you never know what's around the corner.
This brings a new set of responsibilities Mobile and Fairhope property owners have to face.
But at 911 Restoration of South Alabama, a Fresh Start is always around the corner in ensuring you and your property are in top shape during these difficult times.
Our expert technicians in biohazard cleaning services near Mobile are professionally trained and certified to reduce the risk of covid 19 infection.
We agree to deep clean all agree-upon surfaces and communal areas of your residential or commercial property.
Our services follow strict standards approved by CDC and EPA protocols to ensure decreased risk of infection.
We also provide covid 19 cleaning services near your residential property along with commercial spaces such as offices, warehouses, churches, retail spaces, or facilities.
As a complete disaster restoration company, we also offer more than biohazard cleaning services near you. Whether you're in need of water damage restoration near Mobile, fire damage restoration near Fairhope, or mold removal near Mobile – you have a dedicated team of experts behind you regardless of any emergency.
It's our goal to rebuild your dreams in the property you've worked hard for.
In times of covid 19 and pandemics, we've learned nothing in life is certain. But with compassion, mutual respect, empathy, and hope – we're certain we can get through any hurdle or curveball life throws at us with a Fresh Start.
Discover a new and safe beginning with covid 19 cleaning services near Mobile today.
An IICRC-Certified Sanitizing Company Mobile Has Near You
How do you know your next covid 19 cleaning companies you choose have what it takes to deliver the confidence you need?
In pandemics where life and death is on the line, there's no time for playing with fire.
Therefore it's important to choose a provider that carries the right accreditations. Otherwise how can a company prove what they preach?
At 911 Restoration of South Alabama, we have our bases covered to protect you and your Mobile property. There isn't one deep cleaning technician we send to your property who isn't certified by the Institute of Inspection Cleaning and Restoration Certification organization.
This allows us to mitigate the risk of infection on your property as much as possible with many included benefits.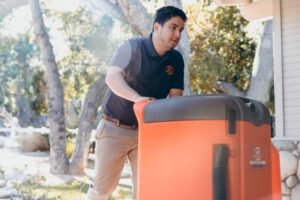 Guidelines and protocols set with high standards from the CDC and EPA
Trust you deserve with professional advice with biohazard cleaning services
Importantly a property you can have a peace of mind in that's deep cleaned
Covid 19 is highly transmissible especially on high touch surfaces. The CDC recommends deep cleaning those surfaces such as electronics, tablets, touch screens, keyboards, or doorknobs.
When you have a team of fighters by your side who deliver covid 19 cleaning services near you, you'll be assured we'll reach every surface.
Step up to the fight today to get your life back to normal with a cleaner and safer future.
The Only Covid 19 Cleaning Services Near Mobile With a Fresh Start
Times are tough as the recent pandemic has shown the world.
And the only way to get through this is by working together and believing that unfortunate events are only blessings in disguise.
At 911 Restoration of South Alabama, we're here to show you that storms don't last forever.
Yes pandemics included.
Know the light at the end of the tunnel is within reach. Especially when you have a caring team to deliver you a Fresh Start to your Mobile or Fairhope property.
Fast service with a 45-minute or less guarantee after any call
The reliability you deserve with same-day service and 24/7 availability
Direct insurance billing to take the weight off your shoulders
An IICRC-certified team you can rely on for expert solutions
Importantly a safe and clean space to give you peace of mind
Stop living in fear and uncertainty in your property.
The only way to do so is to get professional covid 19 cleaning services near you for assurance.
Call 911 restoration owner today and let's get through this pandemic together for a Fresh Start!