IICRC-Certified Water Damage Restoration Near Me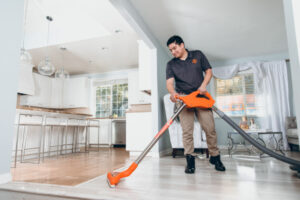 Searching for the "best water damage restoration near me" can finally be easy with a Fresh Start.
Despite Mobile, Alabama receiving more rain than most parts of the county, property owners know the headaches dealing with water disaster.
The last thing we'd want for you to undergo is the continuous experience of a water disaster at your Mobile or Fairhope property.
How do we do it?
There isn't one water mold fire restoration professional we bring to you who isn't registered by the Institute of Inspection Cleaning and Restoration Certification organization.
What does that mean at 911 Restoration of South Alabama?
We offer a full line of services outside of the best water damage restoration near you
Trusted and expert help you can rely on regardless of any property emergency
We're licensed, bonded, and insured to protect you and your property of any mishaps
An extensive nationwide network full of the best resources available to you
We stand for integrity, compassion, and respect for all our customers
Dealing with flooded basements, leaking pipes, or damaged roofs are stressful times no property owner ever wants to go through.
That's why our caring team always puts you and your needs first before anything else.
Whether you're in need of fire damage restoration near Mobile, mold removal near Fairhope, or commercial restoration near Mobile – you have the assurance from a certified team who stands behind you 24/7.
Imagine the endless possibilities with a Fresh Start with complete water damage mitigation near Mobile.
Call 911 Restoration of South Alabama for a new beginning today.
We Tackle Any Disaster With Water Mold Fire Restoration Near Fairhope
Generally disasters are linked to bringing more cans of worms to your property.
…an accidental fire's heat can cause burst pipes
…a flooded basement can invite mold growth on walls
…or toxic sewer backup can cause harmful health effects to the body
That's why it's important to choose a certified disaster restoration company.
Our IICRC-certified water damage mitigation technicians near you have seen it all. They're trained and experienced in the industry's highest practices.
Free visual inspection for property owners only
Emergency pack-out and storage services
Testing and evaluating structural damage
Emergency storm repairs
Complete water extraction, drying, & dehumidifying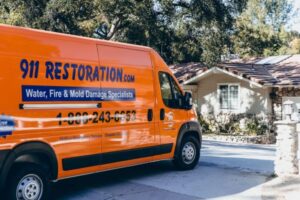 We know time doesn't wait the moment a property crisis strikes. After your emergency call, our water mold fire restoration technicians near Mobile will arrive at the scene of disaster within 45-minutes.
They'll then ensure the safety of your property and all persons are in good condition before performing your no-obligation property inspection. You'll be provided with a complete assessment of vulnerabilities with the most practical solution from an industry expert.
During the water damage mitigation process near your Mobile home, your belongings will safely be stored from further damage. Top equipment like drying and dehumidifying machines, fast air movers, advanced thermometers, and heavy-duty cleaning chemicals (safe and eco-friendly) will be used to speed the restoration process.
Before you know it – you'll soon be walking home to your property to get back to your routine as soon as possible.
Get back on the fast track with IICRC-certified water mold fire restoration near Mobile or Fairhope today.
A Fresh Start If You're Looking for "Water Damage Restoration Near Me"
Property disasters should be the least of anyone's worries in order to live your life to the fullest.
At 911 Restoration of South Alabama – we believe new beginnings and seconds chances are always reachable regardless of your situation.
With compassion, positivity, and understanding, we'll help get you to where you need to be with water mold fire restoration near you.
Howso?
Our Fresh Start promise we deliver to every customer.
Fast service with a 45-minute guarantee after any call you make
Reliability with 24/7 availability and same-day service
We work with all insurance companies with direct-billing to leave you stress-free
An IICRC-certified team you can trust
A caring team to deliver the peace of mind you deserve
Whatever disaster you may be going through at your Mobile or Fairhope property, know you are not alone. You have a dedicated team at your service who will guide you the whole way through until we get to the finish line together.
It's time to take action and stop searching for "Mobile water damage restoration near me."
If you're wondering to yourself what the next steps are, call 911 restoration near me today to get started with a free property inspection.
Get your Fresh Start today!
Serving the communities of Daphne, Fairhope, Foley, Mobile and surrounding area.